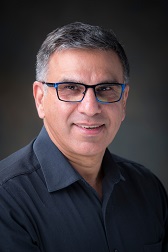 Prof. Zafar Adeel (Chair of the Organizing Committee)
Pacific Water Research Center
Simon Fraser University
On behalf of the Organizing Committee, it is our pleasure to welcome you to Vancouver, British Columbia, for the 2017 International Conference on Environmental Pollution Control from 8 –12 October, 2017.
This Conference aims to explore research and application of environmental sciences to address environmental pollution control worldwide. The Conference program features a broad range of topics, highlighted through inspiring keynote addresses by leading scientists. The program covers rational allocation and utilization of resources, environmental pollution control, environmental function recovery, waste reuse, safety evaluation and ecosystems restoration. The theme also gives delegates an opportunity to exchange new ideas and professional experience. We anticipate that participants from different countries will enrich their knowledge, discover new opportunities, and make new friends.
Vancouver is consistently named as one of the top five cities worldwide for livability and quality of life. It is most famous its natural beauty and is a dynamic and vibrant hub of cultural and artistic activities.
The Organizing Committee members welcome you to the conference and hope you will enjoy the unique culture and beauty that British Columbia has to offer.